Lesen Sie diese Seite auf Deutsch

Our software Knowledge.GUIDE in detail
Work instructions have existed long before computers became available. Machines, systems and vehicles are delivered with operating instructions, mostly in paper form. In the future, digital knowledge transfer will continue to gain importance and with the help of our Knowledge.GUIDE software, you can already take a step into the digital future.
The guides are used to train new employees, as support for experienced employees, to document knowledge and workflows, and to assist with problem diagnoses. Our solution offers the greatest added value when experts and experienced workers are not available in the same place and at the same time that the knowledge is needed. Or when the knowledge needs to be shared very often.
Digital Knowledge transfer – these are your benefits: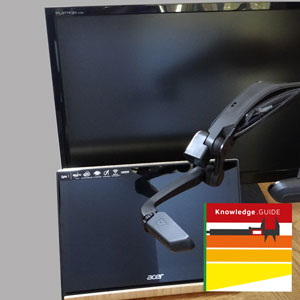 Higher process reliability
Fewer errors during machine changeovers
A shorter period of time in which experienced employees have to supervise newcomers
Higher flexibility in personnel deployment (personnel reserve through jumpers)
Modernization of technical support and remote support options
Avoidance of production downtime due to faster troubleshooting
Support for foreign-language employees through automatic translation of instructions
Reference documents available for infrequently performed repairs, inspections and maintenance work
Knowledge transfer with Knowledge.GUIDE is possible on different channels:
For frequently occurring operations: as digital instructions available for use directly on the device/machine.

Advantages: The manual is immediately available, regardless of whether experts are on site. Can also be used offline. No personnel costs for support staff.

For seldomly occurring problems: As tele-support, where via a type of video call, an expert views the problem through a video camera, describes the solution via the audio link, and supports/monitors the attempted solution.

Advantages: If a support team is in place, this can be rolled out immediately. Users feel they receive personal attention.
The tele-support feature of the software is currently under development.

Combined solution:

The user starts with guidance, if he encounters problems he cannot solve himself, he switches to tele-support.
The user starts with tele-Support. After a diagnosis by the support employee, the employee recognizes a standard case for which there is a manual and sends it to the user, who can continue to work with it independently.
As the first provider to focus on interactive digital instructions supplemented by tele-support for knowledge transfer, we stand out from other solutions available on the market.
Software features

Information and interactivity
In addition to pure information on the sequence of work, the software can interactively adapt to the current situation by looking at the work task and knowledge of the worker:
Tables with production parameters for variant-rich production are displayed at the relevant work step
Depending on the situation, the system branches to the right place in the instructions
Automatic repetition of configuration procedures until manufactured sample products meet the tolerances
Control of pick-to-light in manual assembly: highlight the supply tray to be picked from by LED light and check correct picking of an item
Check picking of the correct tool via labels with radio identification tags (so-called RFID tags)
Integration of optical inspection: Check via camera and AI that parts have been assembled correctly (we provide the connection, the optical inspection itself comes from a supplier)
Control actuators such as cobots
Receive, read and store measured values from measuring devices
Calculate target values
Check measured values for compliance with tolerances
Quality management: save inspection data automatically
Store knowledge: with the "Background knowledge" function, additional information can be integrated and learning at the workplace is actively supported
Adaptation: the software adapts to the level of knowledge of the respective user by displaying the information in greater or lesser detail, i.e. it is adaptive.
Easy creation of manuals
The Knowledge.GUIDE program can be started in Editor mode with an author license. This is used to create new guides or edit existing ones. The editor allows creating steps through an easy-to-use graphical user interface (GUI). External programs are used for editing images and videos. Here you can rely on the programs you already use in your work, such as PowerPoint. Measurement and test steps can be created in the editor – so your quality control is directly supported by the program. Tutorials are available on YouTube that document the creation of instructions. Several authors can work together on a manual. The work status is then synchronized via a NextCloud server offered by us.
Offline use
The Knowledge.GUIDE program also works without a permanent Internet connection, i.e. it is offline-capable. Our goal is to ensure that workers are reliably supported in their work. They should be able to display digital instructions even in places where there is no Internet access. For example, when repairing a heating system in the boiler room or in a factory hall that is not yet completely covered with Wifi.
This is what our users say
Supported devices
The digital instructions should be available directly at the workplace, at the machine. For this purpose, we currently support the display with the Knowledge.GUIDE Player on the end devices tablet and smartglasses.
Presentation on a tablet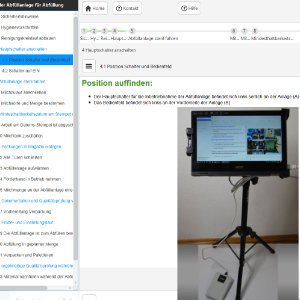 The big advantage of tablets is that many people are used to operating them from their private or professional environment. Tablets are therefore well accepted. They are also easy to read for people who wear glasses. If employees need their hands free while working, it is advisable to clamp the tablet in a holder on the machine or place it on a stand.
Different input devices can be connected to the tablet for different use cases, such as a footswitch or a number pad.  Our software currently runs on Windows 10, so a Windows tablet is necessary. Well-suited devices, like the Acer "Spin 1" are available for around 400€. With the accessories, such as a holder and footswitch, you end up with a cost of around 600€.
Presentation on smartglasses
Our experience with users has shown that smartglasses are very well suited for displaying digital instructions with videos when working on machines.
The biggest advantage of smartglasses is mobility. Workers control the instructions via voice commands and thus have their hands free to work at the machine. They can easily walk to other parts of the machine or plant and always have the instructions with them by simply keeping the glasses on their head. A tablet on a stand would first have to be transported and a good place found to stand it.
This is countered by the smaller display of the data glasses, on which small text, in particular, is difficult to read. Therefore, textual information should be read aloud if possible.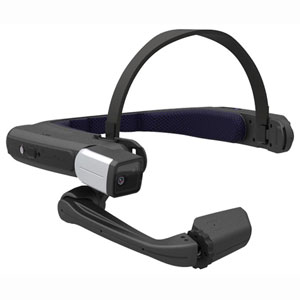 Smartglasses such as the RealWear HMT-1 have become available lately that are easy to wear and work well in industrial environments. It is also already possible to use smartglasses for tele-support.
Smartglasses are significantly more expensive than tablets, with simple devices for office use costing around €800. Data glasses for industrial environments that are waterproof, oil-tight, resistant to shock and can be mounted under helmets, such as the RealWear HMT-1, cost around €1,800. The Realwear smart glasses can also be used in noisy industrial environments: it has voice recognition that is insensitive to noise. It has several microphones and can thus filter out background noise electronically.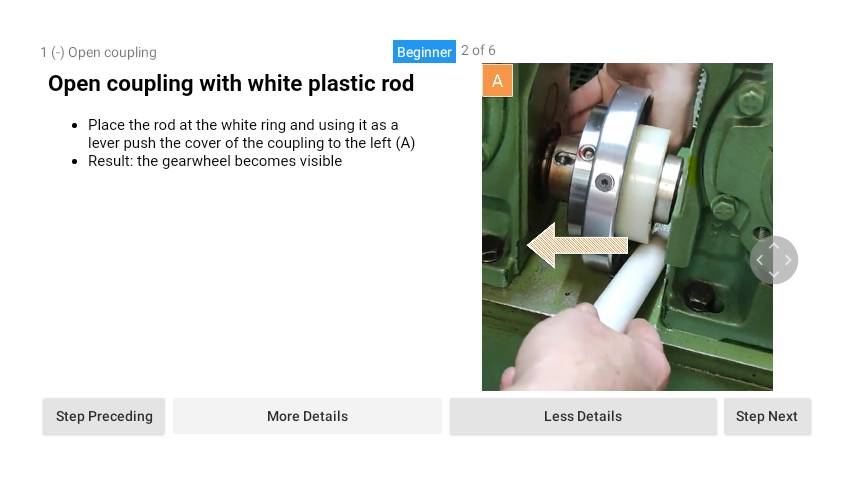 With Knowledge.GUIDE player you can display your created digital guide on the data glasses and navigate in the guide.
Tele-support, multilingualism and work release
In the near future, the following functions will be added to our software:
Videotelephony: users and experts can work together on various training, problem, or maintenance tasks, so-called tele-support; with tele-support, the worker can directly transmit what he himself sees and does via the integrated camera of the smartglasses.
Employees on the customer side can, for example, show the problem situation to a support employee of the manufacturer via camera and work together on a solution via the audio channel in the event of problems on the system. Experts can help employees with less practical experience to learn the ropes in the event of illness or contact restrictions.
Multilingualism: In the editor, the author or a team of authors creates the instructions in one language. The content is automatically translated and available in the player for users in different languages. Users can freely choose from the available languages. This helps foreign-language employees in using the guide and enables them to work independently faster and gradually learn specialized vocabulary with the help of the guide.
Steps for work release during training: Experts check the intermediate result of the work at special steps to prevent errors from causing injury to the user, damage to the machine or defective products.
We are also happy to offer you specific software enhancements as development projects that meet your needs, for example for the connection of measuring devices or specific control of actuators.
Arrange a consultation appointment with us!